Rita1652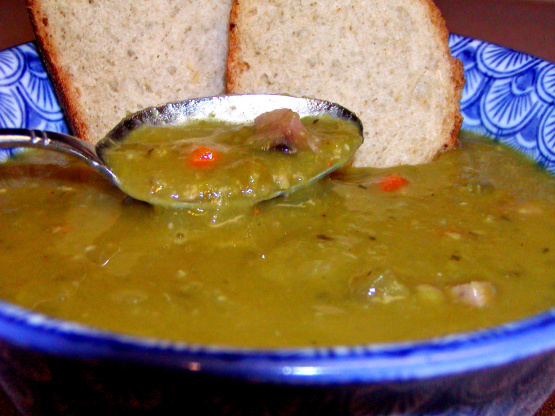 This is one of my favorite soups to make because it is flavorful, relatively quick, and inexpensive. My mom found this recipe in a community cookbook a few years back, and we've been loving it ever since! You can substitute spices or even add things, kind of like Stone Soup... this is just the basic recipe which is easiest to branch out from. You can microwave or cook on the stovetop, which makes it flexible! This is the perfect New Year's late lunch or after-Easter dinner since the leftover ham is a main ingredient. I hope you enjoy it as much as my family!
In a large saucepan or stock pot, boil water and split peas until desired consistency.
The question to ask is,"Is it soup yet?.
"Place pre-cooked ham pieces and hambone, cayenne pepper and salt to taste in the pea soup and simmer for 1 hour, or until desired consistency.
Serve piping hot with french bread and butter!
Delicious!