Mom's Delicious Homemade Bread
Kyle G.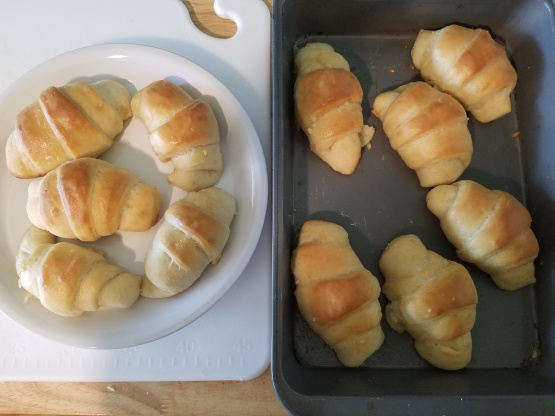 This is my Mom's recipe. It is so good, very light and fluffy with a crispy crust on the bottom. Very simple too. Can be used to make rolls, or loaves. You can easily double it. You can also add 1c. raisins and/or slivered almonds,orange/lemon zest and vanilla extract to a loaf for a festive holiday bread. The options are endless!

Let me just start by saying I have NEVER made homemade bread before and I was very apprehensive. I've tried to use yeast in the past and had no success, but I was eager to try again. I looked at several recipes for homemade bread online, and this one seemed the most foolproof (and had the BEST reviews!). I made one loaf and 12 rolls and they turned out PERFECT. I seriously cannot get over it. I wanted to call everyone I knew and tell them.

I did take a few notes from reviews on this recipe and on other websites I visited. Namely, I warmed the bowl before adding the water & yeast by pouring in hot water and then pouring it out. Then I combined only the water and yeast (and made sure it was completely mixed) before adding the oil and honey. And, thanks to a tip from one of the other reviewers, I put a pot of boiled water in the oven along with the dough while it was rising, and it only took about 45 minutes for it to rise.

Thank you so much for sharing this recipe. It's so delicious, and I cannot wait to make it again!
Combine warm water, yeast, oil and honey in a large bowl, let sit for 5 minutes then add the salt and egg. Stir all together.
Add the flour one cup at a time, stirring together after each cup. Around the 5th cup your dough will begin to come together pulling away from the sides of the bowl and forming a ball.
Empty the dough onto a clean, floured surface and begin kneading the dough adding a little more flour as it becomes sticky. It should be slightly sticky. Knead for 3-5 minutes until smooth, firm and elastic.
Set aside to rise until double.
Divide dough into 2 loaves or 1 loaf and 12 rolls or all rolls if you like. Place in well greased loaf pan or rolls on a greased cookie sheet.
Preheat oven to 375°F
Set aside to rise until almost double once more.
Bake loaves for 25-30 minutes, or rolls for 15 minutes. They should be golden brown on top and bottom when done.