Mom's Creamy Cheesy Berry Salad Dressing
jonesies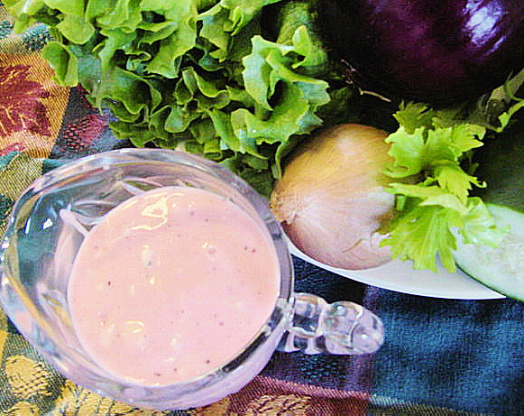 Easiest and yummiest dressing ever. Discovered when my mother was having a dinner party and didn't have enough salad dressing. It may seem like a strange combination to some, but please give it a try. I don't think you'll be sorry. We have found it tastes best over a salad of mixed greens, dried cranberries, walnuts or pecans and red onion. Yum! It's a bonus that it's extremely low in fat too!! Oh yes, and if you don't have blue cheese dressing, it works wonders with ranch! You can also use any berry vinegarette such as raspberry walnut. Our favorite: Ken's Steak House Fat Free Raspberry Pecan. Please also note that no matter how I tried, I could not get Zaar to recognize the raspberry pecan salad dressing wo it is not computed in the nutritional value.
1⁄4 cup fat free blue cheese dressing
1⁄4 cup fat free raspberry pecan salad dressing

1

teaspoon blue cheese, crumbles
Whisk the two salad dressings together.
Stir in the blue cheese crumbles.
Serve over salad.