dizzydi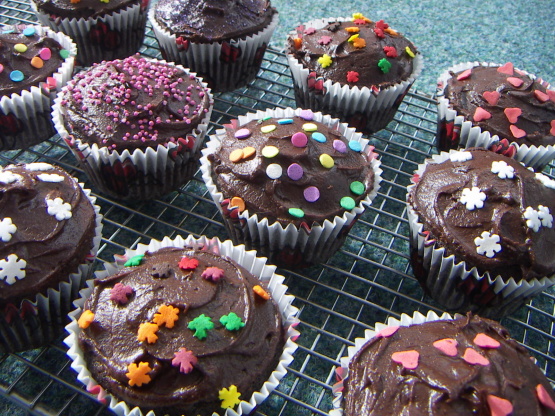 This recipe was given to my mom by a next door neighbor many years ago. It makes a wonderful dark chocolate cupcake, or double the recipe for a sheet or layer cake. It has become a family favorite and is always requested at birthdays.

Top Review by lac925
These cupcakes were the richest, moistest (is that a word?), and the most chocolaty cupcakes I have ever made from scratch :) At first, I was a little hesitant about the "no eggs" factor, as well as using the vinegar, but they came out perfect! I added a touch more cocoa and maybe a 1/4-1/3 cup more sugar (there were no raw eggs in the recipe, so I was able to really taste the batter and adjust it to my liking)...Also, I added 1/2 cup of semi-sweet chocolate chips, and boy, do they add to the moistness of the cupcakes :) Next time, I will try this as a full layer cake with a cream cheese frosting :D Thanks for posting this recipe!
Mix all ingredients together until moist and well blended.
Put in cupcake cups and bake for 20-25 minutes at 350 degrees F.
Frost with your favorite icing.
To make a layer cake, double the recipes and put in 2 round cake pans.
Increase baking time to about 35 minutes or until a toothpick inserted in the center comes out clean.