Nicoleg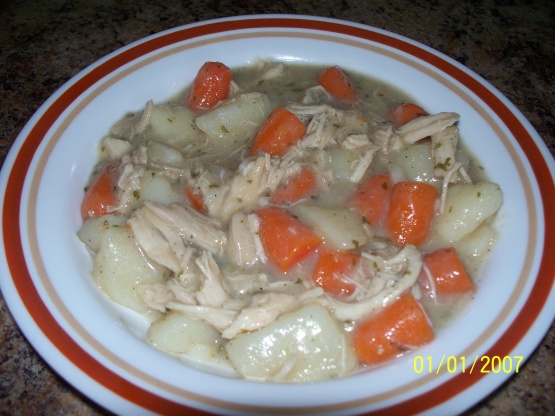 I make this stew on cold days or when someone just isn't feeling well. It's a fabulous comfort food that smells great all day and helps chase the sniffles away...and it's easy too...the worste part is cleaning the meat off the chicken but don't use boneless, skinless because it just won't be the same! There's definately something in the bones that gives the stew it's rich home cooked flavor.

We love chicken soup and stew and this is an awesome chicken stew. The flavour is great and it is really easy. I had no trouble thickening up, but I chose starchy potatoes for my stew and I think that is the key. When I came home from work for a late lunch the next day, the pot had been scraped clean, apparently my DH had the rest for breakfast. Thanks for sharing! Made for PAC Spring 2014.
Place cleaned chicken in a 6 quart soup pot and cover with water.
Bring chicken to a boil, reduce heat to medium and slow boil for 1 hour to cook the chicken and create a chicken broth.
Skim fat off the top and add more water if necessary to keep chicken covered.
Remove chicken to a bowl and set aside to cool.
Strain all of the fat out of the chicken broth.
Mix the chicken base and water into the broth.
Add onions, carrots, potatoes, pepper and parsley to the broth and bring it up to a slow boil for 30 minutes.
While the veggies cook remove all the meat from the chicken and add it to the pot.
Melt butter in the microwave for 40 seconds in a glass measuring cup.
Add the flour to the butter and stir until smooth and creamy.
Pour into the boiling soup and stir to mix.
Reduce heat to low and simmer for 15 minutes to thicken and then serve.
TinTN: You make a good point that sometimes it does not thicken, I think sometimes the potatoes have more starch than other times and that there may be more or less stock when you take out the chicken because I have that problem at times too. My solution -- I make another batch of the butter and flour and add some more until it thickens. Hope it helps!