twissis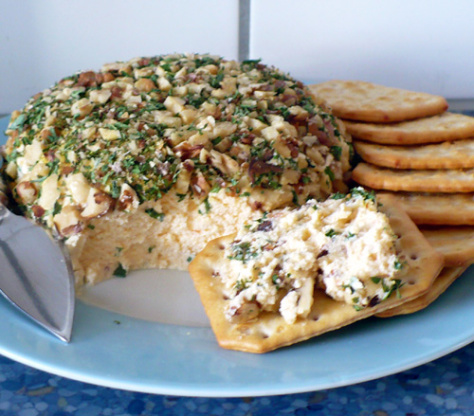 Simple and delicious! Everyone loves it! My mom always made this growing uop for holidays and get together s and it has always been a favorite!

Made for Spring PAC 2013 & Mom's cheese ball is a good one. I made 2 logical assumptions & 1 chg. I assumed taco sauce was salsa & cheese meant cheddar. I used a blend of shredded cheddar & Monterey Jack. I didn't have any A1 Sauce, so used a Sweet & Hot Carribean sauce we bought while on a cruise. It was made a dy ahead & on 1st taste seemed bland, but the heat & other flavor factors were better developed.the next dy. I'm usually no good at "cheese ball mechanics", but the mixture handled easily to form a ball. Since there are no textural or "visual" components, I covered the ball w/a mixture of chopped walnuts, dried parsley plus lemon pepper & served it w/Tuc crackers, a Belgian product. Thx for sharing Mom's cheese ball recipe w/us..
Mix all ingredients.
form a ball.
place on wax paper.
top with nuts if you like.
refrigerate.
serve with crackers (I prefer wheat thins).