Mom's Best Hamburger Steak Recipe
Boomette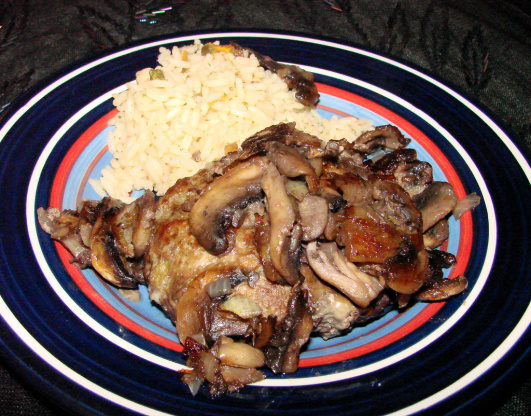 If you're looking for a great hamburger steak recipe, this is the one for you! Easy, economical & perfect for quick family meal!
The taste is good but the direction were not clear. The merlot and water should be in the list of ingredients. When I added the patties to the skillet, I was not sure if I had to let them cook a little bit. I waited 2 minutes, then flipped the patties. I added the merlot and water. I should have waited to cook the other side. Cause while it was simmering, the patties were still raw. I didn't know what to do. So I put the skillet in the oven at 350 F for about 30 minutes. I didn't have gravy to serve the patties. I was disappointed a lot. We had to eat something else cause it took too much time. Made for TYM tag game
1

lb ground round

1

organic egg, beaten
sourdough bread, pieces

1

dash salt
1⁄4 teaspoon freshly cracked pepper

1

tablespoon olive oil
1⁄4 sweet vidalia onion
1⁄2 cup sliced mushrooms
1⁄4 cup merlot
1⁄4 cup water
Combine beef, egg, bread crumbs, salt & pepper.
Form into 4 patties and set aside.
Heat olive oil in skillet, saute onion & mushrooms.
Return beef to skillet cook for approximately 6 minutes on each side then add 1/4 c merlot and 1/4 c water.
Simmer until slightly reduced (about 8 minutes). Serve with baby peas and mashed potatoes.