Ben C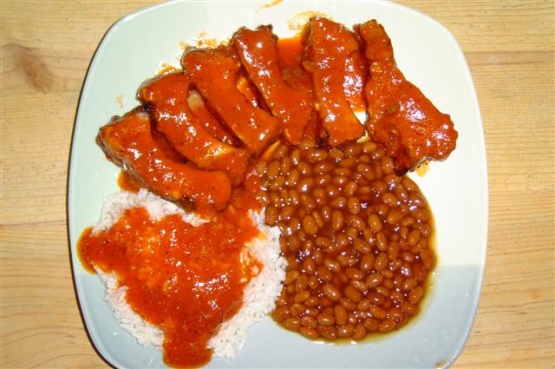 Pork ribs with sweet and spicy North Carolina barbecue sauce. This is the way my mom always made ribs so it's my all time favorite. The original calls for white rather than sweet onion and thick country style ribs instead of babyback. Mom never grilled the ribs either but I love the smoky taste from the grill.
Mix all ingredients except rice.
Bring to a rolling boil. Reduce to simmer.
Simmer uncovered for 1 hour, stirring occasionally.
Drain any remaining oil from top.
Boil ribs covered for 15-30 minutes.
Remove from water, save rib stock.
Brush ribs with sauce and grill over medium heat for about 15 minutes, turning once.
I like to boil a couple of cups of rice in the rib stock and serve the ribs on a bed of rice with extra sauce on the side.