Mom's Banana Devil's Food Cake
Prep 20 mins
Cook 45 mins

Taken from Fabulous Desserts. Bananas and chocolate, oh my!
Directions
Sift together flour, salt, baking soda and baking powder.
Cram shortening, add sugar and cream together until light and fluffy.
Add eggs, one at a time, beating well after each addition.
Add banana pulp, then melted chocolate.
Combine milk and vanilla.
Add dry ingredients alternatly with milk mixture to the creamed mixture, beat well.
Pour into a greased 9x13 pan, bake at 350F for 45 minutes.
Reviews
Most Helpful
We quartered the recipe and got 3 delicious jumbo muffins. We used shortening vs. lard as we do for most dessert items. We dusted the tops with confectioners' sugar and devoured them. This cake is pure heaven. Next time, we're making a whole cake. Thanks again Sam, for another keeper. You rock!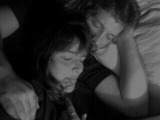 I really thought that with only 1/3c banana (one banana for me) that this cake would be lacking in banana flavor. I was so wrong! There is a distinct banana and a distinct chocolate flavor here and they meld nicely. The cake a slightly dense, but not too much so. I made a banana frosting to go one it and think it would have been better with cream cheese.