twissis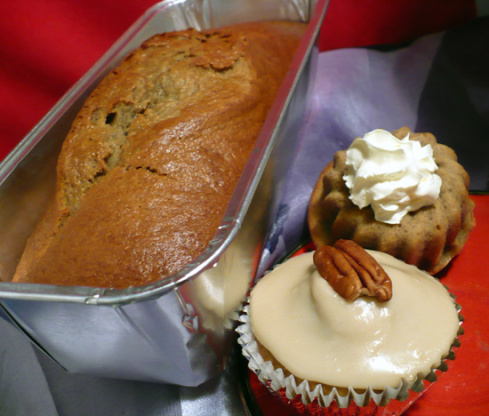 This my mom's banana bread that I grew up eating. I think she got it out of a church cookbook years ago. It is so good. At Christmas time we make multiple loaves and give them away because that is what everyone asks for! Sometimes I try to make it a little bit healthier by using four egg whites instead of 2 whole eggs and cut the butter back a little and replace it with applesauce and it still comes out great!

Suzie_Q's mom has it going on! This made me 2 smaller loaves & was very accommodating of my additions - a few tablespoons of dried up raisins, a 1/4 cup flax seed meal, a 1/4 cup toasted coconut shreds and about a cup and a half of toasted crumbled walnuts. Used 'Smart Balance' spread instead of shortening - tastes great & no greasy texture. One loaf goes directly to my DN - the other may not make it through the night here! Delicious! Thanks for the keeper recipe Susie_Q!
Preheat oven to 350 degrees. Grease 9x5 loaf pan, set aside.
Mash bananas, set aside.
Cream butter and sugar, then mix in eggs.
Add bananas, mix until just combined.
In a seperate bowl mix together flour, baking soda and salt, stir into the wet ingredients.
Stir in coffee.
Fold in nuts.
Pour into prepared pan.
Bake for one hour, then check with a toothpick, it may need a little bit longer.