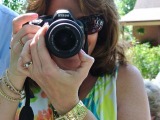 One of my favorite things for mom to fix when I was a kid.
Make and share this Mom's Apple Crisp recipe from Food.com.
Directions
Peel apples and remove cores.
Slice apples into thin slices and put into lightly greased casserole dish.
Mix sugar and flour together.
Cut in butter until you have course crumbs.
Stir in oats and pour over apples.
Bake at 350°F for 35 minutes.
Reviews
Most Helpful
Loved this crisp! We made it into a pie actually by just putting into a ready made pie crust because that's what my husband wanted :) I used six smaller apples and I added the juice of half a lemon, about a tsp of cinnamon and 2-3 Tbl of melted butter to them and it was just wonderful! Thank you very much... I'm tempted to make it again tonight because the five of us all but devoured it!
Just what I was looking for! My butter was frozen, so I had to melt it and mix/crumble/refrigerate but it still turned out perfect, just like Mom's :) Thanks for sharing.