Mom's 100% Whole Wheat Air Loaf in Abm
Katzen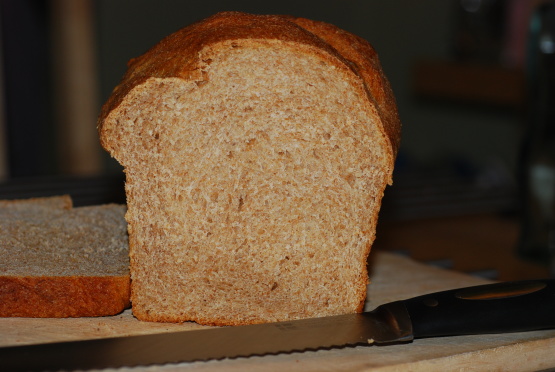 This was a shocking loaf of bread! I couldn't believe how light and airy and delicious the thing was. It rose like a champ. For years I've been searching for a great loaf of 100% whole wheat bread. I didn't believe a loaf at this level was even possible. Wow! I used lard, sugar, and malt vinegar. I followed all measurements and directions exactly. When I checked my dough to make sure it was creating a smooth ball, it required a little splash of water. Sorry, I don't know how much. I had a bit at the bottom of the measuring cup and just sort of slopped a splash of that into the ABM as it kneaded. Anyway.... Yeah, this loaf also sliced beautifully. I signed up for Food.com after years of using it and the previous incarnation Recipezaar just to be able to support this outstanding recipe and its amazing results. THANK YOU, Sweet Baboo!!!! Deserves 10 stars.
Put 4 teaspoons of gluten in the bottom of a one cup measure. Add whole wheat flour to fill the cup, and then measure another 2 cups of just whole wheat flour.
Add ingredients to the bread machine as per instructions for your model.
As the machine begins to mix, adjust the water or extra flour to give a smooth ball of dough when kneaded.
I use the whole grain option of my machine to bake my loaf.