Mommy's Swiss Cheese Omelette for 2 or More
ImPat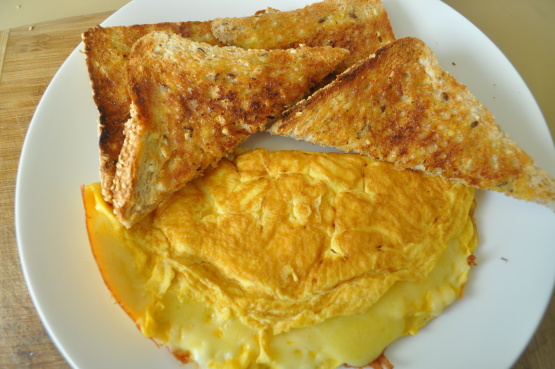 I make this to share around the table so that each person doesnt have to wait fro me to cook their omlette individually. The base recipe is for 2 people. You can double for 3, triple for 6. I use JUMBO eggs

Top Review by ImPat
I just loved this for breakfast this morning, I used 2 medium eggs and Jalsberg cheese and followed through with recipe but served with wholemeal/wholegrain toasted bread (sorry bagels are no no for me - though you can't get them anyway in my part of Australia) but next time I will only have 1 slice of toast as I was really battling to get through with 2. Thank you petlover, made for Aussie/Kiwi recipe swap #48 January 2011.
Beat eggs with water and add pepper to mix.
Spray Large Omlette Pan with non-stick spray while cold.
Melt butter in large omlette pan over medium heat-be careful not to burn the butter.
Pour egg mix into pan and swirl around to cover-lower heat to low.
keep swirling pan so that egg evenly cooks over the low heat- be careful not to overcook or brown the bottum too much.
when eggs are almost cooked through ( top is still soft) sprinkle cheese over the top.
put lid onto pan and turn off heat - let this sit for about 1-2 minutes until cheese melts and eggs puff up.
Sprinkle salt lightly on top.
Fold omlette over and cut in half.
serve over a hot bagel ( open face).