Nif_H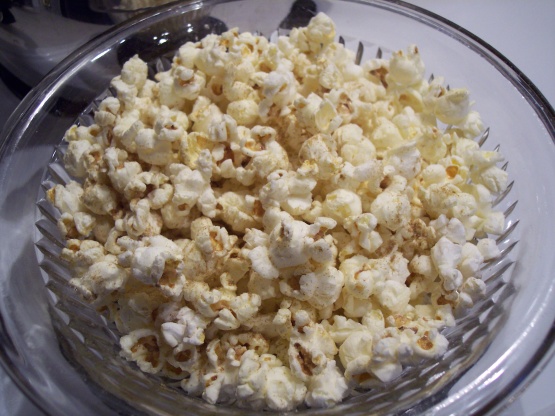 During a recent trip, I stayed in Fes with the family of a local friend. His mother spoke no English and I spoke no Arabic but our common language was cooking and we spent many hours in the kitchen together. One afternoon, she made this for me and it was just amazing. While cumin is as commonly used in Moroccan homes as salt and pepper in the US, the stellar ingredient in this simple recipe is the use of a good quality olive oil. The amounts stated here are approximates as Momma Simo never used a measuring device and eyed everything.
1 -1 1⁄2 tablespoon olive oil (not a light one, but one with a good flavor)

3

tablespoons unpopped popcorn
salt, to taste
cumin, to taste (about a teaspoon)
Heat the olive oil in a large soup pot over medium high heat. Add popcorn kernels and cover pot with lid.
Shake pot constantly while popcorn pops. You should hear the sounds of the corn popping. When the pot is silent, it is done.
Toss the popcorn with salt and cumin and serve.