AngieMel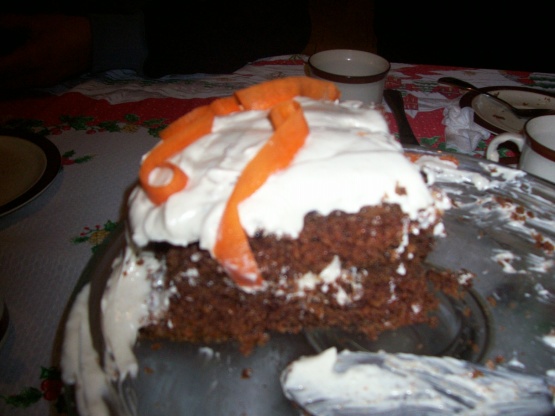 Posted for safe-keeping, this was my dear long-departed Grandmother's recipe from way back. My cousin had it and I never want to be without as to me this is the best carrot cake in the whole, wide world. Besides, Mom-Mom always told us it was nice to share...
FOR CAKE:.
Beat together all cake ingredients. Add carrots last. Grease and flour pans. Bake @ 350 for 40-55 minutes in 2 cake pans or mold. (I use a bundt cake mold and baked for 50 minutes.).
FOR ICING:.
Beat together. all ingredients (can use less vanilla if perferred).
If too dry add a little milk.
Keep cake wrapped & refrigerated.
Best to make day before to let flavors meld.