Mom, I'm Home! P B Banana Chocolate Chip Muffins (Rsc #12)
jenne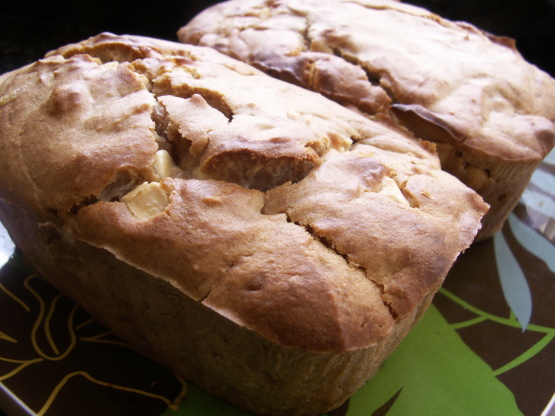 Kids and adults alike will be eager to walk in the door when you've got this snack waiting for them. It's not overly sweet, yet contains so many favorite ingredients to create joyful smiles. A bonus is that you can choose to make 2 loaves of bread, 15-18 muffins, or a combo of each! *Listed cooking time is for bread...muffins take just 20-25 minutes. Created for RSC #12.

This is a good muffin recipe. I really liked the flavors of the bananas and chocolate chips, but think I woud have prefered to leave out the peanut butter. The muffins were moist and had more of a spongy texture instead of a cakey texture. A very good recipe to experiment with. Made for RSC #12.
Preheat oven to 350*.
Stir together flour, Splenda, brown sugar, baking powder and cinnamon.
In another bowl, combine bananas, milk, peanut butter, oil, vanilla, egg white and applesauce.
Add the two mixtures together and stir until combined. There should be no lumps.
Gently stir in mini chocolate chips.
If making loaves, pour batter evenly into two sprayed 8"x 4" loaf pans. If making muffins, pour batter evenly into sprayed muffin tins, or use cupcake liners. Depending on size of tins, you will have enough batter for 15-18 muffins. If you'd like to make just one loaf of bread, you will have enough extra batter to make 6 large muffins.
Bake bread for 50-55 minutes. Bake muffins for 20-25 minutes. Use toothpick test to check for doneness.
Dust with powdered sugar when cool.