Molten Lava Cakes - Gluten Free
PaulaG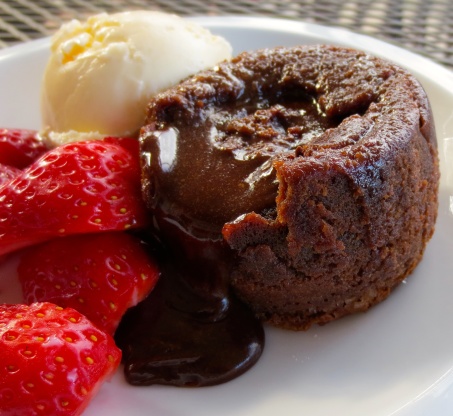 These are super yummy! You can make them with regular flour if your not G/F! I personally like to bake mine so they are not as soft in the middle but it's a personal choice! I don't always include the 2nd egg yolk and they turn out fine. I love that this recipe makes 2 large or 3 medium cakes! These are my ultimate splurge!
Preheat over to 400.
Cover ramekins with butter and dust with sugar. (If you don't have ramekins, I've also made these in a silicone muffin tray.
Melt the chocolate and butter.
Whisk together the eggs, sugar and salt.
Mix these all the above mentioned together.
Add the flour, whisk till combined (do not over-whisk).
Bake at 10-12 minutes until a tooth pick inserted 1/2 inch from the side of the ramekin comes out clean.
Take out of oven and let sit for 10 more minutes.
Enjoy!
You can dust them with icing sugar and serve with icecream and your favorite berries.
I've also had fun and added Baileys or other flavored liquors. This recipe holds up great so experiment with it!
These microwave well the next day!