Reddyrat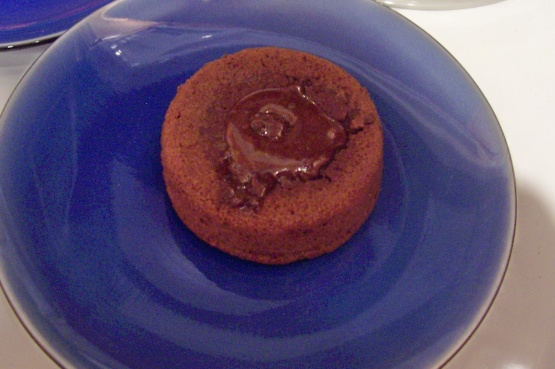 This is a wonderfully easy and sinfully rich recipe. I found it in Bon Appetit magazine. Next time I think I'll try adding a teaspoon of vanilla to the batter before baking it. It's delicious served with ice cream. I recommend cooking it only until set - I prefer it to be very runny.
Preheat oven to 450 degrees.
Melt chocolate and butter in medium saucepan over low heat. Set aside to cool slightly.
Mix eggs and egg yolks until well combined in a large mixing bowl with a whisk.
Add powdered sugar.
Add chocolate mixture.
Add flour.
Split evenly into 5 or 6 individual souffle dishes.
Cook 10-12 minutes until sides are set and center is still jiggly. Run a knife around the edges and overturn onto a plate.
Serve with ice cream.
The batter can be refrigerated for a day.