Molidol's Meaty Spaghetti Sauce

Many years ago my husband asked me if I could make spaghetti sauce from his mother's lasagna recipe and so I played with the recipe until I came up with this one. Everyone that we have shared this meal with has just loved it and requested my recipe, so it has become a family favorite in our friends homes as well. *This is a very meaty sauce so you might want to add more tomato sauce or use less meat to suit your taste.
Directions
In dutch oven add oil, parsley flakes, garlic, and onion . Sauté until tender.
Add ground meat.
When meat is browned all over add remaining ingredients.
Cover and simmer over low heat for three hours.
Variation: use 1 lb sweet Italian sausage and 1 lb ground beef instead of 2 lbs ground beef. Very yummy!
Most Helpful
Love, love, love this sauce! I prepared the sauce today thinking I would use it tomorrow for spaghetti and that way the flavours would have a chance to blend. Well, I can't wait to try it tomorrow because I thought it was delicious today. I sampled it many times while it simmered. I made exactly as written but only prepared a half batch. (and I did drain the grease after browning the meat). Now I wish I had made the whole batch. This is going in my book of favourites, thx Molidol! Made for Fall PAC 2011.
Flavorful, and hearty. i loved this recipe. I made one change and that was to use 1 lb. ground beef and 1 lb. Italian sausage. Wow. You can tell when someone has taken time to perfect a recipe. Thank you Molidol, this is one I HIGHLY recommend.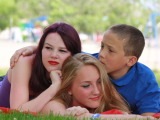 I liked this very much. However, next time I will use fresh herbs. I found that it was better on day two than on day one. This is often true of dishes with stewed meat in them. I recommend making this a day ahead, refrigerate overnight and reheat. Trust me, it will be better.