Moldovan Cream of Potato Soup
diner524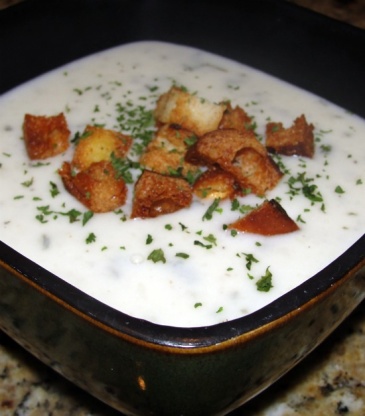 From RecipeWiki. This recipe is also categorized as Romanian. Servings are estimated. I have not made this yet, and imagine I might add a bay leaf and some pepper. The original source said to use "some" of the cooking liquid, so that part is a bit unclear, sorry.

Instead of straining the potatoes, I just boiled the without a lid until the potatoes were cooked & the liquid reduced enough. It worked. :) We love this soup! It makes barely enough for 4. The 3 of us each had a large serving with only a few mouthfuls left. It's thick & rich & creamy. And it's easy! Made for Ramadan Tag 2012.
Boil the cubed potatoes with the finely chopped onion.
When they are done, strain, reserving the cooking liquid.
Mash thoroughly or rice the potatoes and thin with enough of the cooking liquid to make a soup of the consistency you prefer.
Add salt to taste and bring back to the boil.
Mix the sour cream or yogurt with the flour. Add it to the soup, stirring constantly.
Let boil for a minute or two, add the chopped parsley and butter.
Serve with toast.