Molded Corned Beef Spread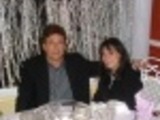 This is a recipe of my mother's that she would serve as an appetizer.
Directions
Spray mold of your choice with non-stick cooking spray.
In food processor, combine cream cheese, corned beef, mustard, horseradish and mayonnaise. Pulse until all ingredients are fully combined, then pour into mold.
Chill the mold least 6 hours. To serve, unmold onto serving dish and line with crackers to serve.
Reviews
Most Helpful
Excellent use for leftover corned beef. I thought it might be boring but the horseradish and mustard give it some kick! I forgot to put spray in my mold but it still came out fine!

Made for a quick fun last lunch in England. My DS loved this!! Great mix of flavors. Nice bite!! Made for ZWT8.