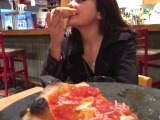 If you've never had a molasses vinaigrette, you should try it. Its unique flavor is so good on spinach salad! This recipe comes from The Yokona River Inn in Oxford, Mississippi.
Directions
In a blender place all ingredients and blend for several minutes.
The onion should be well pureed but still give some texture to the dressing.
Adjust seasonings to taste and blend for an additional minute.
Reviews
Most Helpful
This really grows on you. Perfect blend of flavors. I used half the onion and it was perfect that way. Also subbed garam masala for the coriander and it was wonderful!!! Thanks Trinkets. Made for the Veg*n Swap.

I liked this on romaine lettuce! I let the dressing sit a few minutes to tone down the onion a bit. I quartered the recipe to make dressing for 1 large salad. I thought it was well balanced. Thanks Trinkets! Made for Vegetarian Swap.