Molasses Pretzel Snack (Microwaved)
CoffeeB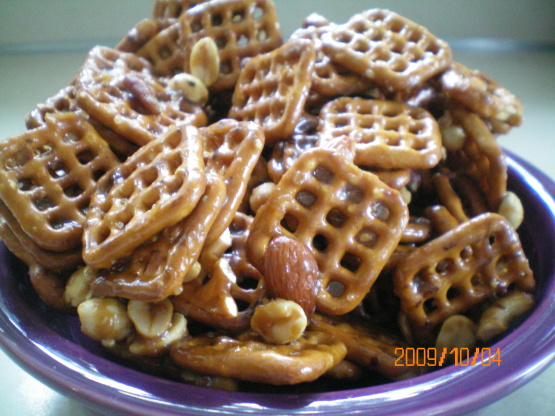 From Taste of Home's Best Holiday Recipes. This is a great snack for your family or even a gift for friends, neighbors and teachers! And it's made in the microwave. . .whoopie!

Made this 7 am this morning. You get three "yes" votes from us. I prefer not to use corn syrup, and I was going to substitute honey but I couldn't find it, so I used maple syrup and it worked fine. Thank you, and Merry Christmas!
1⁄2 cup packed brown sugar
1⁄4 cup butter, cubed

1

tablespoon corn syrup (I have subbed this out with extra molasses, honey and agave in the past, all with great results)

1

tablespoon molasses
1⁄4 teaspoon salt
1⁄4 teaspoon baking soda
1⁄4 teaspoon almond extract (I have subbed out vanilla in the past)

5

cups miniature pretzels

1

cup salted peanuts (unsalted is fine too)
In a large microwave-safe bowl, combine the brown sugar, butter, corn syrup and molasses. Microwave, uncovered, on high for 45-50 seconds or until the butter is melted; stir.
Microwave 15-25 seconds longer or until mixture boils. Immediately stir in the salt, baking soda and extract (mixture will foam).
Stir in pretzels and peanuts. Microwave on high for 20-30 seconds or until pretzels and nuts are well coated, stirring twice.
Spread into a greased 15-in. x 10-in. x 1-in. pan. (If I use unsalted peanuts, I sprinkle some extra sea salt on the top of the mixture). Cool for 15 minutes, stirring twice. Store in an airtight container.