rpgaymer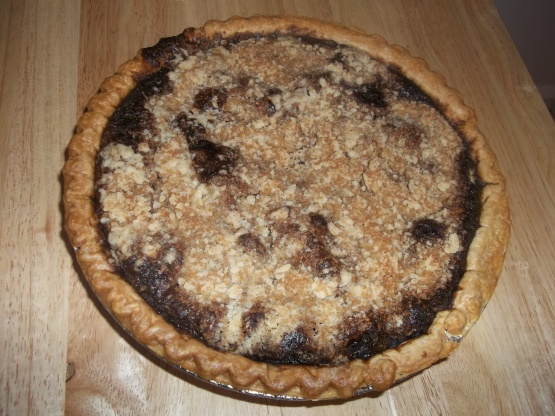 This is a pie I did a few years ago when I was living with my parents. It gives a really large pie. I remember the filling was a bit too much so it went in the bottom of the oven. So maybe it would be better to use 2 pie crust. Or a really bit pie crust. And with a remaining in another small plate. This is from Jean Paré. You have to like the taste of molasses to like this pie.
This pie was enjoyed by four people with very different tastes, so it was definitely a hit. I loved the strong molasses flavor and the crumbly topping. The filling did have a bit of an alkaline flavor to it though- maybe from the baking soda. I topped this with some whipped cream, although vanilla ice cream would have been perfect too. [made & reviewed for rookie recipes]
Mix the 4 first ingredients in a bowl(flour to butter). With a pastry cutter or 2 knives, add butter until you have a rough texture.
In another bowl, mix baking soda and warm water. Add molasses, egg, cinnamon, nutmeg and ginger. Beat well.
Spread 1/3 of the rough mixture (step 1) in the crust, then pour the second mixture of molasses (step 2). Put the remaining rough mixture (step 1) on the pie. Cook on the lowest rack of oven, at 350 F from 45 to 50 minutes or until a knife inserted in the middle comes out clean.