Molasses Peanut Rewards Dog Treats
Prep 15 mins
Cook 25 mins

Molasses is a sweetener that is actually good for your dog, providing manganese and a variety of other trace minerals. Portion size: For small dogs, 1/2 treat; for medium dogs, 1 treat; for large dogs, 2 treats.
Directions
Preheat oven to 350.
Whisk together the molasses, peanut butter, water, and vegetable oil.
Combine the oats and flour. Slowly add to the wet ingredients.
Mix thoroughly, drop tablespoonfuls onto a baking sheet, and press down.
Bake for 25-30 minutes or until firm.
The treats will keep well up to 2 weeks in an airtight container.
Reviews
Most Helpful
The dough for these cookies works wonderfully for silicone molds as well as the method used in the recipe. Doesn't take long to make and our pampered pooch loves them. Thank you for posting this easy and healthy treat.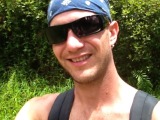 my boys LOVE this all natural treaty..I made these this morning for them and they will not stop begging for more! this will be in the weekly rotation of treats for them...thank you so much for sharing TheDaycareLady!!