Molasses Oat Bran Cookies
paxsarah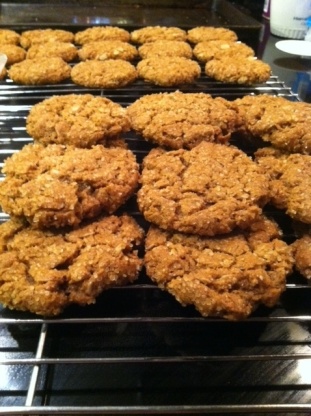 This healthy (well, healthier) cookie recipe won a prize in the 1990 Pillsbury Bake-Off. It was created by by Constance Dudley of Stanardsville, Virginia. I got the recipe from the 50th Anniversary Best of the Bake-Off Cookbook. Cook time includes refrigeration time and cook time for 2 batches of cookies. These can easily be made vegan by using a vegan egg-replacer like Ener-G. Sometimes sugar is not vegan so you could substitute raw sugar, if desired.

I reduced the sugar to 1/2 C which made them closer to a digestive than a sweet. Still very nice flavor with a touch of sweet. Substituted barley flakes for oat and added 1 TBSP water because the barley flakes are thicker and dryer; would probably go with 1 1/2 next time as they were a bit crumbly to form into balls.
In a large bowl, mix the oil, egg, 1 cup sugar and molasses and mix very well.
In a medium bowl, mix together the flour, oats, bran, baking soda, cinnamon, ginger, salt and cloves.
Stir the flour mixture into the sugar mixture until well-blended.
Cover and refrigerate for at least 1 hour (This is for easier handling).
Heat oven to 375°F.
Spray cookie sheets with cooking spray or line with parchment.
Shape dough into 1-inch balls and roll in the 1/4 cup sugar.
Place 2 inches apart on the cookie sheets and flatten the cookies with the bottom of a drinking glass, dipped in sugar.
Bake at 375°F for 7-10 minutes until cookies are set and tops are crackle-y.
Let cool 1 minute on the cookie sheet, then remove to a cooling rack to cool completely.