Molasses-Oat Banana Bread or Muffins (Lower Fat)
This is a fabulous recipe for banana bread! This can also be baked in mini loaf pans and it also makes 12 muffins, bake for 20-25 minutes. I also added in some shredded carrots and nuts then baked it in a 9x5-inch loaf pan, for less fat use low-fat yogurt or sour cream
Directions
Set oven to 350 degrees F.
Grease an 8 x 4-inch loaf pan.
In a bowl sift together white and whole wheat flour, oats, baking soda, cinnamon and salt.
In another bowl beat the butter with sugar and molasses for about 2 minutes.
Add in eggs, beat until combined.
Add in bananas, sour cream applesauce and vanilla; beat until blended.
Add in the flour mixture; beat at low speed just until moistened.
Spoon the batter into prepared baking pan.
Bake for about 1 hour, or until bread tests done.
Cool for 10 minutes, then remove to a wire rack to cool completely.
Reviews
Most Helpful
Brought this to the office recently...everyone loved it and how healthy it was. I used buttermilk instead of the yogurt, soaked the oats in it too before adding to the batter. I also used 3/4 cup flour and 3/4 cup whole wheat flour instead of 1 cup flour, 1/2 cup whole wheat...worked beautifully!
One of the best banana breads! Mmmm! Followed the recipe closely except for adding an extra half a banana. I also chopped 1/2 cup of walnuts into smallish pieces and pressed them gently into the top of the bread before baking (along with a bit of flax seed for fun). The result is a lovely dark-colored bread with lighter contrast from the nuts on top. Perfect! I myself used thick-cut oats in this recipe instead of quick-cooking oats and was happy with the texture it gave (a little chewier in places.) Thank you Kittencal :)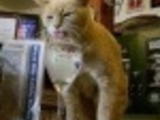 I also love this recipe, and I thought the molasses gave it a nice, dark touch. I wasn't sure what kind of oats you meant so I put in oat bran, and it came out really nice. It remained moist even the next morning.