Xiney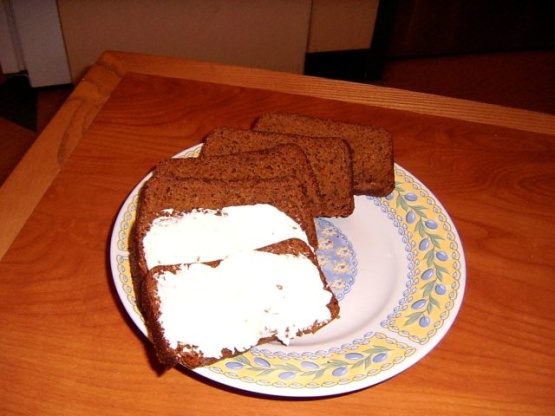 Easy to make, great with cream cheese. Make ahead and freeze for future use.

Top Review by Geema
I love molasses and this bread was full of that dark rich taste. Some currants were waving at me in the pantry as I was gathering my ingredients, so they got added to the bread. Instead of making one large loaf, I used my mini pans and made three small ones, putting two in the freezer and bringing one as a treat for a friend. Next time I make this bread, I'll add some spices and it will taste like gingerbread. I like that this bread has no oil, uses whole wheat flour and the molasses for some good nutritional value as well as good flavor. A truly fine recipe.
Preheat oven to 325 degrees.
Spray 9X4 inch loaf pan with non stick spray.
Sift dry ingredients together.
Mix liquid ingredients together, then add to dry mixture.
Blend well with electric mixer.
Pour into prepared loaf pan.
Bake for 1 and 1/2 hours.
Cool for 10 minutes in pan, then turn out and cool completely.
Delicious with cream cheese.
Freezes well.