2Bleu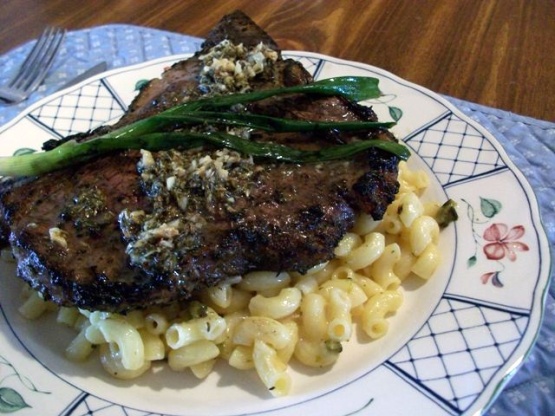 Get your Mojo back with this daring grilled steak dish! Requires 1 hour marinade time.

What a fantastic marinade for our T-Bones. I let the steaks marinate for about four hours before grilling. They turned out great! I loved the macaroni, too. However, I substituted jalepeno for the habanero. Can't wait to have T-Bones this good again! Thanks for sharing your recipe!
MOJO: whisk together all of the Mojo ingredients (except the steaks). Reserve 1/4 cup of marinade, covered, in the fridge. Marinate the steak in the remaining Mojo for 1 hour prior to grilling.
MACARONI: Heat butter in a large skillet and sauté the onions, garlic, and habanero until just tender. Add the cooked macaroni, cheese, and poblano puree. Mix thoroughly and season to taste. Keep warm.
GRILL: Grill the steak to desired doneness. Trim the roots off the green onions and grill them alongside the steak.
SERVE: Place macaroni onto a plate. Place the steak atop the macaroni and spoon reserved Mojo over the steaks. Place grilled green onion stalks over top.