Whipper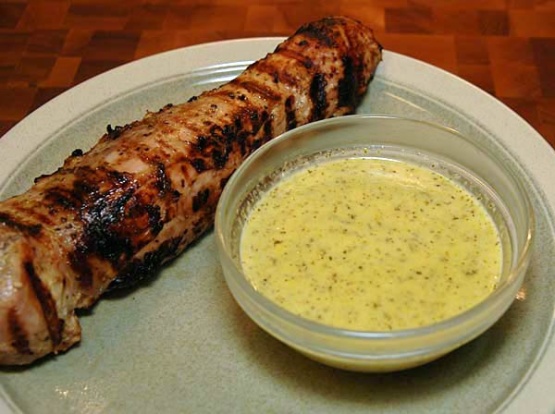 Rob Rainford's cuban style pork on the grill... this citrusy and slightly spicy flavor makes for a nice change from the usual barbeque fare.

This is a great tasting recipe and very authentic. I served it with Victor 52 Cuban Black Beans and Rice and it was a smash hit!
One time instead of fresh loin, we had a huge pork roast that had been roasted and was put in freezer--so I just put marinade over the thawed sliced pork and left for 24 hr. and then baked for about 2-3 hr. until flavors mingled and it was not dry.
Puree the first 9 mojo marinade ingredients in a blender while slowly adding the olive oil. Season with salt and pepper.
Transfer 1/2 cup of the mojo marinade into a container to keep in the fridge for later as a dipping sauce.
Place the pork tenderloins in a ziplock bag and pour the remaining mojo marinade into the bag with it. Squeeze out the air, seal and place in the fridge overnight.
Preheat grill to 350°F.
Remove pork from marinade and remove excess marinade from it, then season with salt and pepper.
Place the pork on the grill over direct heat and grill for 15-18 minutes, turning every 4 minutes for even gold browning.
Remove pork from the grill and cover with aluminum foil and let rest for 10 minutes.
Warm reserved mojo marinade to use as a dipping sauce.