Prep 15 mins
Cook 2 hrs 30 mins

This looks really beautiful served in a glass pitcher with floating mint. This is a perfect drink to serve friends while outdoors on a beautiful sunny day. The lime mint syrup should chill after it rests for 30 minutes, so plan accordingly. Cook time is chill time.
Directions
To make the Lime-Mint Syrup, bring the sugar and water to a boil cook until completely dissolved, only about 1 minute. Remove from heat, stir in the lime zest and mint, and let sit for about 30 minutes. Strain, cover and refrigerate until chilled.
Muddle mint and lime with the crushed ice in the bottom of a large pitcher. Add chilled Lime-Mint Syrup, rum, lime juice, and more ice. Top off with chilled club soda, to taste.
Pour into glasses over crushed ice and serve. Garnish each cocktail glass with a lime slice and mint sprigs.
Most Helpful
I agree with the previous posters - these were very refreshing and very easy to make ahead! I don't usually like mint flavored things (reminds me of toothpaste) but this was very very subtle. I also added the alcohol to individual servings since not everyone was drinking. Thanks for posting!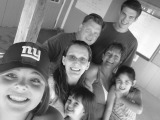 "Yum, and so refreshing! Drank these all summer. Be careful, not good for the waistline.
This is terrific! A great recipe when you need to make a pitcher of mojitos for a party - I recommend you double the recipe and make two! I thought the amount of rum was high, so I cut that in half and some folks added more or less seltzer to taste. Really delicious!