MeliBug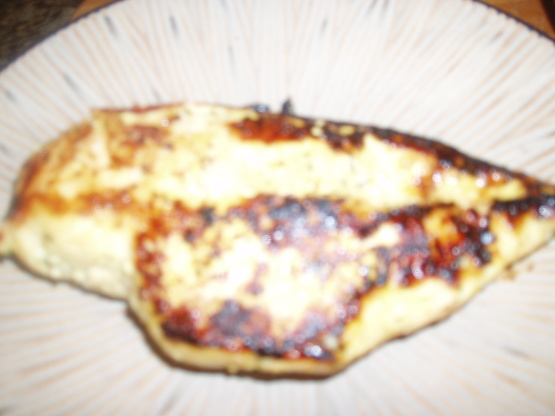 A refreshing marinade makes this yummy. Prep time does not include marinating time.

I just made this for lunch and it was SO good!!! i definately recommed this recipe! its perfect for grilling! only suggestion i have is to season the chicken with pepper cause i thought it helped the flavor out! very tasty! must try when having a grill day! :D
Place all the marinade ingredients into a blender or food processor and blend to liquify.
Pour marinade into a plastic Ziplock baggie.
Place the chicken in the baggie with the marinade; squish around to coat the pieces.
Refrigerate chicken in the marinade for AT LEAST 8 hours, but no more than 24 hours. Turn the baggie every few hours.
When ready to grill: preheat grill to medium heat.
Place chicken on grill (discard the marinade) and grill over direct heat for about 8-9 minutes on each side or until juices run clear.