Moist, Tender & Crispy Pork Chops
Kats Mom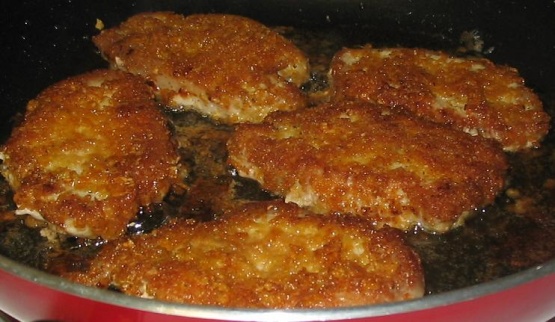 We don't eat pork often, so when we do, it needs to be spectacular! I developed these based on a recipe from an episode of Nigella Feasts. NOTE: Zaar adds the entire amount of the frying oil, egg wash and coating to the nutritional facts panel. Generally, the entire amounts are not used completely so these chops have less fat, cholesterol & calories than stated.

Very nice! We enjoyed these pork chops very much. I particularly liked the corn flake-parmesan crust. I used 1 full teaspoon of mustard and probably could have used a bit more seasoning, but they were good as is. Thanks for posting.
EGG WASH: Beat the egg in a wide bowl with the mustard, mayonnaise, oregano, salt and pepper.
COATING: Crush corn flakes and combine with the Romano Cheese.
Spread out on a large plate.
CHOPS: Poke chops with a fork or pound with a mallet to tenderize.
OIL: Heat oil in a large frying pan over medium heat (oil is hot enough when a small piece of bread sizzles when dropped into the oil).
COOK: Press each of the chops into the egg mixture, coating both sides.
Then dip the chops into the bread crumbs, covering each side evenly.
Fry the chops until they are a deep golden color, about 5-8 minutes per side depending on thickness.