Moist Pumpkin Cranberry Cornbread
MA HIKER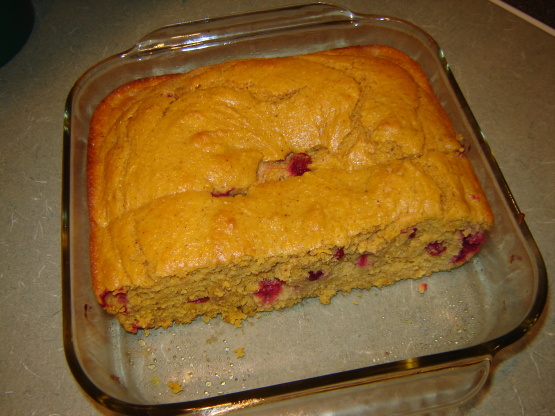 This moist cornbread begs for butter when you take it out of the oven and it's even better the next day so you can prepare it a day ahead wrap in plastic and serve the following day, if you don't care for nutmeg then omit, if you like a sweeter taste then increase the sugar slightly --- serve this along side of your turkey or ham dinner :)

This was very yummy! I substituted cream cheese/milk for the sour cream and mine came out a lot thicker - I had to flatten my batter in the pan before baking. Very tasty and flavorful, just the right sweetness. Next time I'm making it in mini muffins.
Set oven to 350 degrees.
Lightly grease a 8" x 8" baking pan, OR a 9-inch pie pan.
In a bowl, toss together flour, cornmeal, sugar, baking powder, salt, nutmeg and mace.
In another mixing bowl, mix with a wooden spoon, the pumpkin puree, sour cream OR buttermilk (if using), butter, eggs and honey, until well combined.
Add the pumpkin mixture to the flour mixture JUST until combined.
Mix in the cranberries.
Transfer to a prepared baking dish.
Bake for about 40 minutes, or until edges just begin to colour.
Cool to room temperature.