teresas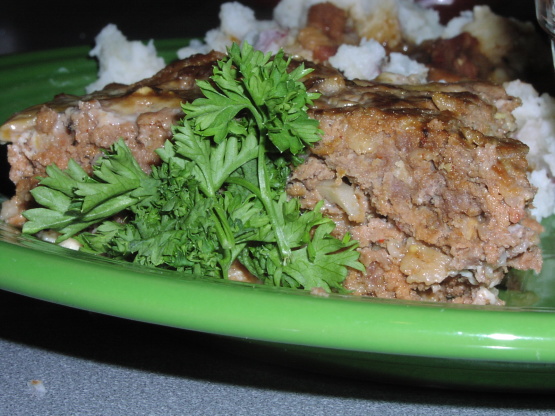 I tried making my own little version today and it turned out real good. I would definitely keep doing it again, whenever I make meatloaf. I'm posting this partly so i can have an organized way of following the recipe.

DH loved this. He said it is what meatloaf should taste like. (no turkey) Putting it in a 9X13 baking pan speeds up the cooking time. I made as posted with no changes. This is a moist and dense meatloaf that doesn't fall apart like some do. Planning to make meatloaf sandwiches with the leftovers. Thanks for posting. :)
Preheat the oven to 350 F.
In a small bowl beat both eggs.
In a larger bowl add the onion, meat, and oats. Mix well.
Add the spices.
Add the beaten eggs. Mix well again.
Add the ketchup and sauce, and mix well.
Put the mixture in a 9 x 13 loaf pan, and bake for 1 hour, or until well done.