DebS 2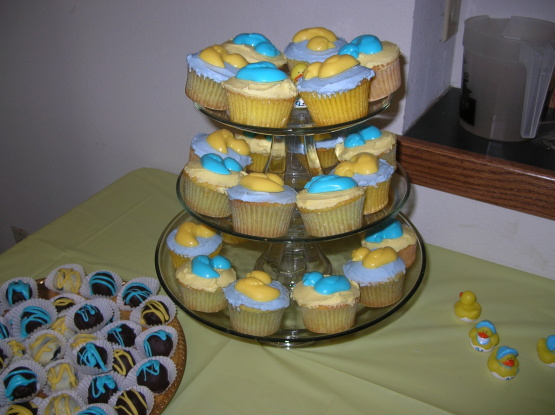 No one will ever know this is made from a cake mix! I used Duncun Hines Classic white cake mix and Sprite soda for this, but any soda drink that has lemon is fine to use, add in some yellow food colouring also if desired ;-)

Top Review by DebS 2
This is really yummy! So moist!! I frosted them with Buttercream Dream #293896 rather than glaze them because I made them for a baby shower for my DIL and then topped them with candy ducks made from white chocolate melts. I did add the lemon zest. I gave out the recipe to several guests at the shower!!!
Set oven to 350 degrees.
Set oven rack to second-lowest position.
Grease a 13 x 9-inch baking dish.
In a mixing bowl combine cake mix, lemon zest (if using) oil and eggs; using an electric mixer beat at medium speed for about 1 minute.
Add in soda and beat until thoroughly combined.
Transfer the batter to prepared baking dish.
Bake for about 40-45 minutes or until cake tests done.
In a small bowl combine the confectioners sugar with lemon juice until smooth, then carefully spread over the warm cake.
Cool on a wire rack.
Delicious!