Prep 15 mins
Cook 45 mins

Easy and garlicky good what more is there to say! My kids love this chicken and request it frequently.
Directions
.Preheat oven to 350.
In a shallow bowl, combine butter, garlic, garlic powder, and garlic salt.
In another bowl, combine bread crumbs, cheeses, and pepper.
Dip chicken in butter mixture, then in bread crumb mixture.
Place in a 13 x 9 x 2 baking dish coated with non stick spray.
Drizzle any remaining butter over chicken.
Cover and bake about 45 minutes turning about half way through.
Most Helpful
This was delicious cheesey goodness that went together in minutes. I used thin-sliced chicken breasts, so I only cooked them for 25 minutes and they were perfect. I followed the recipe exactly after that change but added a little panko to the bread crumbs. I love the garlicky flavor. The cheddar cheese in the crumb mixture does "spread" during baking, but it actually produces a nice bottom "crust". I will definitely be making this again. Thanks for sharing. Made for Spring PAC 2012.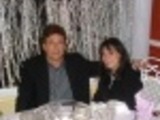 Yummy!!! Great buttery garlic cheddar flavor and covering the pan while baking made it very very moist! My 4 year old daughter loved it! She ate everything on her plate, and that NEVER happens!!! Definately a keeper! Thanks for sharing!!!

This chicken was a real hit for my family! It was absolutely delicious! I used 3 large chicken breasts and halved them but I ran out of the Parmesan cheese/bread crumb mixture and just barely had enough of the butter mixture, so I'd suggest adding more to the cheese/bread crumb mixture to make sure there is enough. I'll be making this many more times to come!