Moist & Delicious Banana Nut Bread
Swirling F.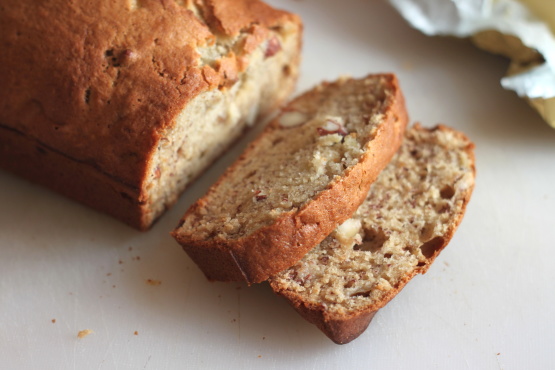 I got this recipe when I was 12 and have used it for the past 33 years and haven't found one better! My son used it when he was 12 at the California State Fair and won a first place ribbon with it. It is just simply delicious & moist. I either make a loaf or put it into muffin cups & make muffins for my kids to grab in the morning on their way to school. Using margarine makes the muffins come out in a better form, but the butter has a better flavor, so I usually use 1/2 of each to get the best of both worlds.

Best Banana Nut Bread recipe EVER! Followed recipe exactly with a cup of chopped pecans and perfect results. Bread was very moist, matched with perfect texture & had the right balance of banana flavor. Easy to follow instructions and easy to make. Family went "Bananas" over this wonderful bread! LOL Recipe made two loaves in Williams Sonoma Goldtouch pans. (6-cup capacity; 11" x 5 3/4" x 2 3/4" high). Many Thanks for sharing this Prized Recipe!
Cream butter & sugar. Add vanilla & eggs. Combine dry ingredients, add alternately with bananas & milk. Add nuts if desired. Grease & flour 1 bread pan (2-3 smaller pans) or pour into muffin cups. For loaf bake at 350 for 45-60 minute Muffins 350 for 20-25min. Enjoy!
*Note- I usually use a smaller bread pan to make the 2 loaves, or use a larger one and just make 1 big loaf, but it will need to bake longer. I adjusted the time because people had been saying it was over baking, now people are saying it's under baked. I would use the old fashion test of a tooth pick at 45 min, then at 1 hour -- up to 1 hour & 30 min if needed. Hope that helps!