keeney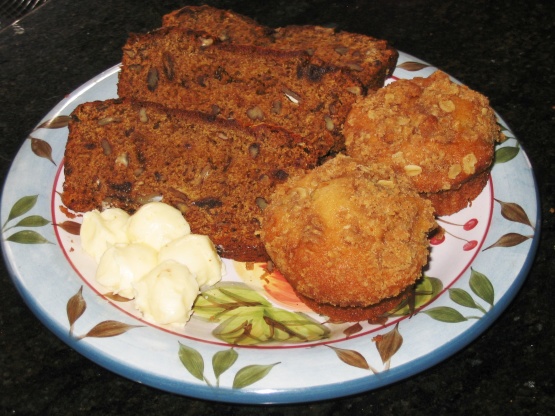 This recipe is from Canada. The recipe came from All recipes and was submitted by Canadian Girl.

Top Review by keeney
For PAC Spring 2010. Absolutely a do again. I have to admit ... I strayed from the recipe. I had oranges that needed using up, so used the orange juice instead of the water. AND because I am I making your Apricot Ginger Chicken for dinner and had way too much brandy for anything I'll ever use, I added 2 T apricot brandy to the mix. Thought I had walnuts on hand, didn't, so used pecans. But the outcome was fabulous. Thanks for the recipe! I'm giving you 5 stars!
Preheat the oven to 350 degrees F.
Grease and flour a 9inx5in loaf pan.
In a medium bowl, combine the dates and butter.
Pour boiling water over them, and let stand until cool.
When the dates have cooled, stir the mixture to break up any clumps.
Mix in the brown sugar and egg until well blended.
Combine the flour, baking soda, baking powder, and salt.
Stir into the date mixture until just blended.
Pour into the prepared pan.
Bake for 50 minutes in the preheated oven, or until a wooden pick inserted into the center comes out clean.