Moist Banana Walnut Bread
Brenda.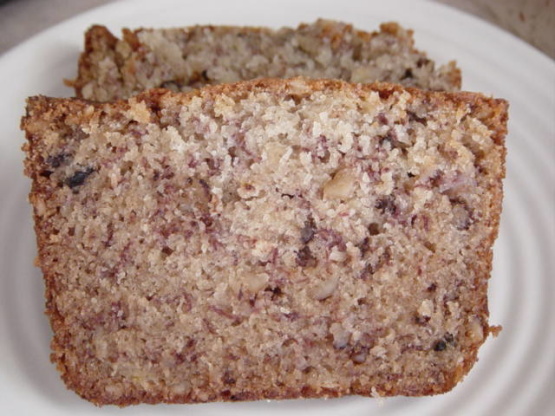 I've tried a lot of banana bread recipes and this is by far the best I've ever tasted! I found the recipe in the Utah Dining Car Cookbook by the Junior League of Ogden.

Made four loaves of this today! Best banana bread recipe ever!
The batter does NOT all fit in one pan. This was perfect for two 8 1/2" x 4 1/2" x 2 1/2" loaf pans. The timing was perfect though. 1 hour and 15 minutes and they were done! Will definitely make again. This will be my "go to" recipe!
Preheat oven to 325°F.
Grease and flour a loaf pan.
Cream the butter and sugar thoroughly.
Add the bananas, eggs and vanilla; beat well.
Sift together the flour, baking soda, and salt.
Stir flour mixture into the banana mixture, alternating with the buttermilk.
Add walnuts and mix well.
Pour batter into prepared loaf pan.
Bake at 325°F for 1 hour and 15 minutes.
Let the bread cool in the pan for 10 minutes before turning it out onto a cooling rack to cool completely.