Rebel_mc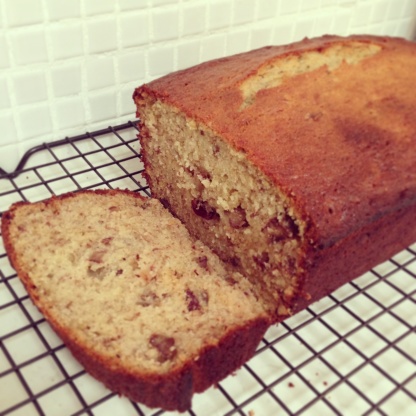 My husband never like banana bread until I developed this uniquely textured version made with yogurt. These loaves freeze well: wrap in foil and freeze; thaw in foil until room temperature.

I have tried many, many banana bread recipes over the years and really found this one to be about the best. I almost always modify a recipe as I enjoy the experimentation. My simple changes included adding generous amounts of cinnamon and nutmeg, extra vanilla; I also used a greek vanilla yogurt. For nuts, I used very finely processed pecans, which I then toasted. I know some reviewers felt toasting had little impact, but I do think it heightens the flavor of the pecans -- plus it's so easy to do in a toaster oven. I have a definite sweet tooth, but try to reduce the amount of sugar we eat whenever possible, so I used a generous half cup of Splenda, a 1/4 cup of white sugar and a 1/4 cup of brown sugar. Like others, it didn't take as long to bake, which I did so in a 370 oven. Thanks so much for a truly great recipe. My husband, my son and I all enjoyed it and I encourage anyone to try this one next if you're in search of a delicious banana bread!
Preheat oven to 375 degrees.
Cream margarine and sugar.
Add eggs, beating well.
Beat in bananas and vanilla until well blended.
Stir dry ingredients together; combine with first mixture.
Stir in yogurt and nuts.
Pour into 2 small (7 x 3") greased loaf pans or 1 large (9 x 5") greased loaf pan.
If desired, sprinkle wheat germ over top.
Bake 1 hour for small loaves and 80 minutes for large loaf.
Do NOT underbake as the yogurt makes this very moist.