"mohnstrietzel" (German Poppy-Seed-Cake)
Iceland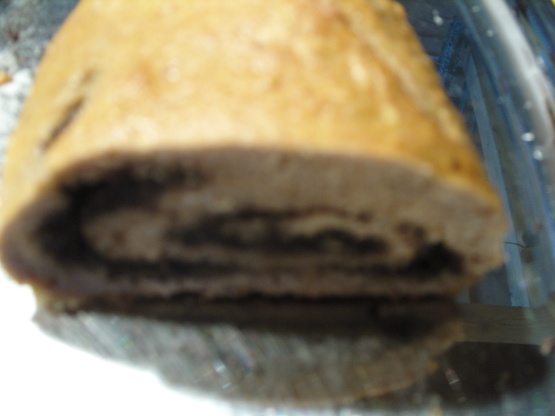 If you like poppy-seeds and raisins this is the perfect cake for you. It is loaded with these little goodies and tastes oh so yummy!

Absolutely my kind of pastry, especially with the combo of raisins & seeds ~ Really a pleasure to make, not to mention devour!! I DO LOVE YOUR RECIPES, Lalaloula! Thanks for sharing this one! [Made & reviewed for my tagged chef in the Vegetarian/Vegan Recipe Swap 21] ~ I'll get that one right, yet, maybe!
In a bowl mix poppy seeds, butter, sugar, eggs, granola cereal/almonds and raisins. Stir until well blended.
In a second bowl mix baking powder and flour. Add quark, milk, oil, applesauce, sugar, vanilla and salt. Using the dough hooks work into a smooth dough (first on low then on highest speed). Do not knead longer than 1 minute or dough will become sticky.
Roll out on a floured surface into a rectangle of 35X45 cm. If the dough is too sticky, add a little flour.
Spread with the poppy-seed-mixture and roll up starting on the longer side.
Carefully place on a paper-lined baking sheet and cut a criss-cross-pattern into the top of the dough (about 1.5 cm deep). Brush with a little milk.
In the preheated oven bake at 180°C/350°F for about 30-35 minutes.