Mock Sushi- a childrens treat
Pamela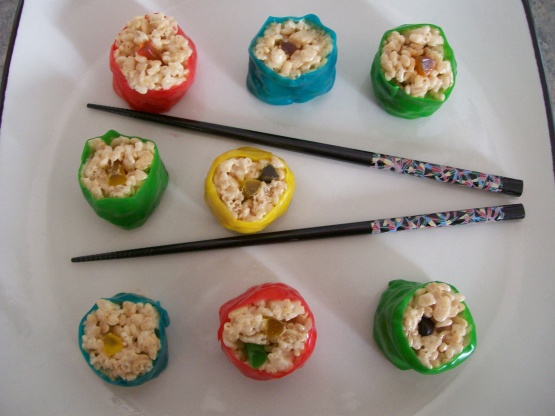 This would make a great treat for children on April Fools day or any time for that matter. I got it from a Family Fun Magazine and love the simplicity of the recipe and how much fun the kids have with it.

These were soooo adorable! I can't believe how cute they turned out and I even thought they tasted great! I got 4 rolls out of mine and had a little strip of plain rice krispie treats left, which did not go to waste. I still got 48 out of the recipe, since it was a 12" wide pan and you cut each of the 4 rolls into 1" pieces. I used sour neon gummy worms (only needed 3-4 in each roll, and they were overlapping a bit) and strawberry fruit by the foot (needed 8 rolls). The kids loved them and the flavors actually go well together (I thought they would be kind of yucky...oh no, I am turning into a kid after eating them! :) Anyway, thanks dayla, so much for posting this. I will be making this over and over again for parties, bake sales, etc. P.S. I would suggest letting the mixture set for a couple minutes before pressing into pan. Then allow to set a few more minutes before attempting to roll...my first roll was a bit messy.
1⁄4 cup butter

4

cups mini marshmallows

6

cups crisped crispy rice cereal

20 -25

gummy worms

1 -2

box fruit leather
Grease a 12x17" baking sheet.
Melt butter in a 2 quart saucepan over medium heat.
Add marshmallows and stir until smooth.
Remove mixture from heat and stir in rice cereal until it is evenly coated.
Turn the baking sheet so that the shorter ends are at the top and bottom.
Then press the marshmallow mixture onto the sheet, distributing it evenly.
Starting at one side an inch up from the lower edge, place gummy worms atop the mixture end to end in a horizontal line.
Gently roll the lower edge of the marshmallow mixture over the gummy worms.
Then stop and cut the log away from the rest of the mixture.
Use the same method to form 4 more logs.
Slice each log into 1 inch thick"sushi" rolls and wrap them individually with a strip of fruit roll-ups.