Pamela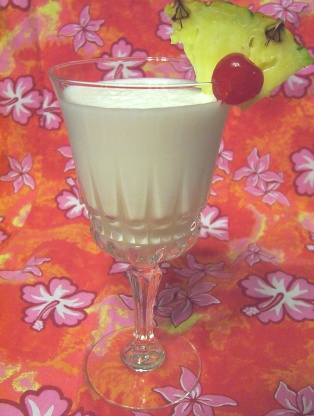 Low in calories, creamy (even with nonfat milk), alcohol-free, kid-friendly, and nutritious. This was inspired by Heather Sullivan's Strawberry Julius #24088. Can be made vegan using soy milk or even tofu

This was a great pick-me-up after my run. I froze the pineapple before bed last night and then didn't need any ice cubes to get it to the consistency I wanted. I didn't have any rum extract and that didn't bother me at all. I think I might use this as a fast dessert for myself. It is not quite as much as I like when I have a smoothie, but would make a fabulous dessert. And it is 3 weight watchers points incase anyone else is tracking!
Place everything except water and ice cubes in blender and process.
Add a little ice cubes and water at a time to desired consistency.
Serve cold.
Enjoy!
No hangovers!