Dawnab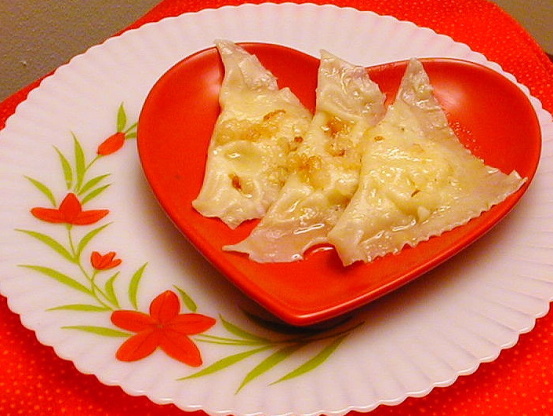 This dish was inspired by Giada. I grew up in a Polish neighborhood, but never was taught the trade (but ate at anybody's house that served them, LOL). This simple shortcut version provides all of the taste and charm of the dish. It makes 2 batches, one for now and one to freeze.

What an easy way to make perogies! They are delicious too! The wonton wrappers make a thinner outside than regular perogies. The only thing I did differently is add a tiny bit of milk instead of butter into the filling, and fried my onions in about 1/2 tsp olive oil. I will definietly be making these again. I am very impressed with this recipe!! Thanks!
Boil potatoes until tender. Drain and add cheese and butter. Mash until smooth like thick mashed potatoes. Season with salt and pepper as desired. Add a little milk if needed.
Lightly flour a cookie sheet.
Using one wonton skin, put one teaspoon of filling into center. Use water to wet two sides of the skin.
Fold over and seal lightly with a fork; place on cookie sheet.
Repeat until all the wonton skins are used. Place half of the won tons, in a single layer and not touching, into the freezer.
Simmer the half cup of butter and onion over low heat until onions are translucent.
Boil pierogi for about three minutes; drain. Serve with the fried onions.
Place the frozen pierogi in an air tight bag. To use, bring a pot of water to a boil and cook them for about 7 minutes. Serve with a fresh batch of fried onions.