Mock Mashed Potatoes/Cauliflower - Quick and Easy
Elodie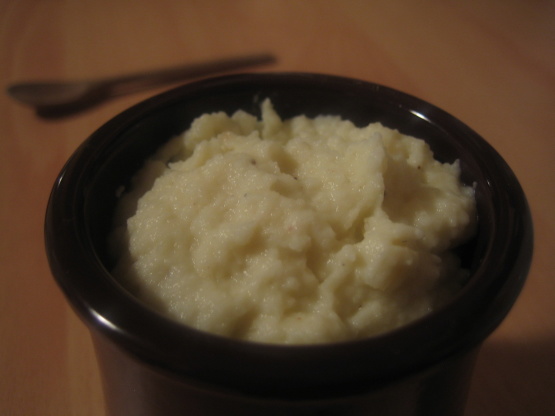 I found this recipe in a specials' flier from Publix supermarket. It's delicious! You can also substitute a bag of mixed cauliflower/broccoli for a tasty variation.
YUM! I made this using a 12 oz bag of frozen garlic flavored cauliflower which I think only enhanced the taste. My potato masher only diced up the cauliflower and didnt actually mash it but that wasnt a problem. My 7 yr old ate them with no issue. Thanks for a great recipe!
Place cauliflower in microwave-safe bowl.
Cover and microwave on HIGH 8 minutes.
Stir in remaining ingredients and microwave 3-4 more minutes until tender.
Process in food processor (or use hand blender) until smooth (about 30 seconds).