Mock Goldfish Cheese Puffs
Miss V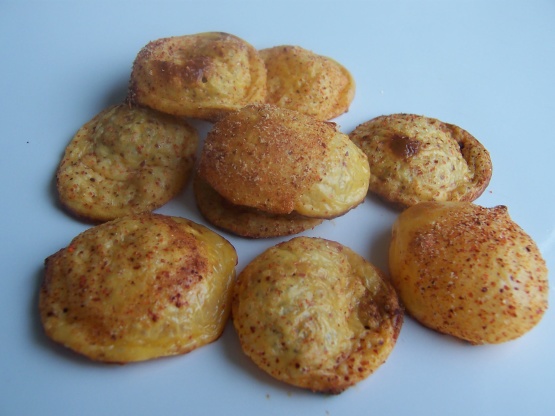 Saw this made on a Foodtv show and thought it would be fun to make with DS. We tried the other day and he had a glorious time. They are quite tasty too. Make these as spicy or salty as you want. Change the seasonings for totally different snack. Please note that they can quickly go from baked to burnt.

I was delighted to find this recipe because my DS loves goldfish but we can't ge them where we live. The taste was identical even though it didn't have the crunch of the cracker part. We loved it. Thank you for a wonderful recipe.
Preheat oven to 400°F.
Stack the slices of cheese and cut into 16 small squares.
Separate the pieces and place next to each other on a flat surface.
Combine the salt, chili powder and garlic powder.
Sprinkle seasoning mix onto cheese.
Toss the cheese to thoroughly season both sides of cheese.
Arrange the cheese squares on a parchment-lined baking sheet, leaving a little space between the squares.
Bake about 7 - 7 1/2 minutes, until well-browned and crispy.
Cool completely (they will crisp a bit as they cool).
Store in airtight container on countertop.
Note: watch carefully as undercooking will yield soggy puffs and overcooking will yield burnt crisps.