gailanng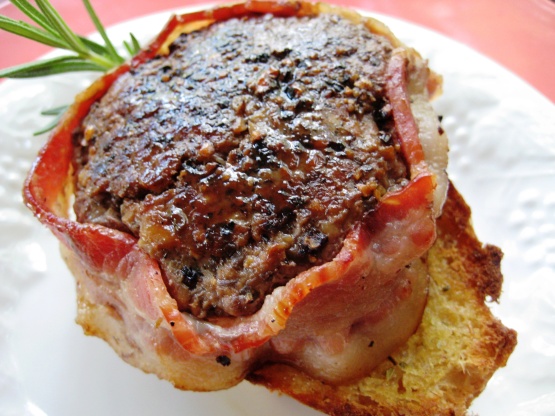 Flavor-packed beef patties are wrapped in bacon to give them an expensive look. They are served with a rich red wine sauce to give that pricey steak taste at a less expensive cost. Source: Woman's World

Loved them! What wonderful flavors! It was a great "fake out" for filet mignon. My burgers were a little"wet" but the bacon wrapped around them held them together. Love the wine, mustard and rosemary combo. I would warn others that when it says "cook, turning ONCE" that is exactly as you should cook them; otherwise, they will fall apart. Thanks, Lainey, for some great flavor packed burgers (filet mignon).
In skillet over medium-high heat, cook bacon until just beginning to brown, 3-4 minutes. Drain on paper towel; reserve.
Remove and reserve all but 1 t drippings from pan. Add mushrooms; cook until liquid evaporates, 6-8 minutes.
Add 2 t garlic; cook 1 minute.
Transfer mushrooms to bowl; cool 10 minutes.
Meanwhile, preheat oven to 425 degrees.
Combine butter and remaining garlic; brush over both sides of bread. Place on baking sheet. Bake until golden, 4-5 minutes.
In bowl with mushrooms, mix in beef, Worcestershire sauce, egg yolk and salt just until combined; shape into 4 patties.
Wrap reserved bacon around patties; secure with toothpicks.
Sprinkle with pepper.
In same pan, heat 1 T reserved bacon fat and add the patties. Cook, turning once, 5-6 minutes per side until no longer pink inside.
Remove from pan; discard all but 2 T drippings.
Add wine, mustard and rosemary. Cook, stirring, until thickened, about 30 seconds. Remove toothpicks.
Serve the sauce with the beef patties.
You can top the bread with the beef patties or you could just eat the garlic bread on the side.