Mochaccino Pecan Pancakes
PaulaG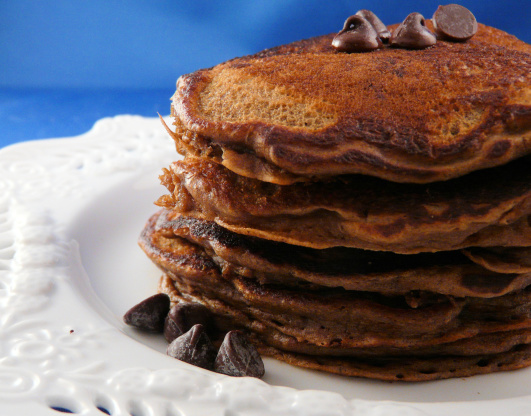 If you like the combination of coffee, chocolate and nuts, then these are for you! These pancakes have a lof of flavor and are sweet enough that they don't need any syrup. Made for RSC #11.

Loved them! We used Kahlua. We didn't find these as overly sweet as some other reviewers suggested, but they are flavorful and don't need to be covered up with lots of syrup. Also the consistency was like a regular pancake, not thinner or like a crepe as I read in another review. I really enjoyed a breakfast sandwich I made the following day, using two warmed pancakes with fat free ricotta inside. Made for the March 2008 Coffee Photo Challenge.
Whisk flour, sugar, salt, baking powder and baking soda in a large bowl; set aside.
In a medium or large glass measuring cup (or bowl), stir instant coffee and hot water until dissolved.
Add sour cream to coffee and mix. Slowly stir in milk. Then add brandy and egg, and whisk to combine.
Add wet ingredients to dry ingredients, and whisk until combined; batter will be a little lumpy. Stir in melted tub margarine.
Ladle approximately ¼ cup of batter for each pancake onto prepared sprayed griddle. Batter will be thin. Sprinkle with 4 or 5 chocolate chips and a large pinch of pecans. Cook until bottom is golden brown and bubbles are forming. Flip and cook second side until done. I like to use a tiny bit of cooking spray in between batches to prevent sticking.
These are sweet enough and have a lot of flavor just plain (we don't put syrup on them), but feel free to also serve them with your favorite topping. Enjoy!