Annacia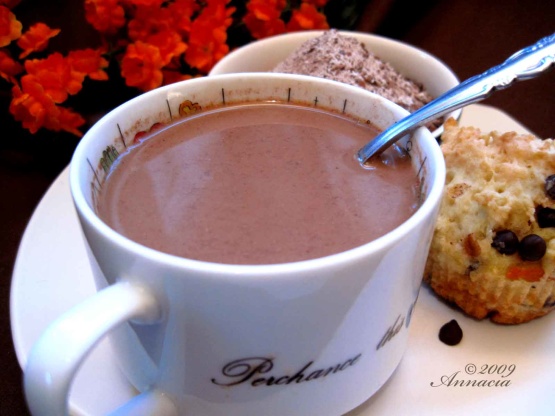 A very flavorful beverage and especially nice to warm you up or just to enjoy as a treat drink.

Yum. I used Extreme Dark Drinking Chocolate and Splenda for a great tasting cup of morning mocha. I went with only a 1/2 cup of mix (as a trial run) that amount of mix ask for just 1/8 tsp of cinnamon and 1/16 tsp nutmeg *shock*, so I bumped it to my liking 1/2 tsp cinnamon and a light 1/4 tsp nutmeg. So good, my trial run of mix won't last long, lol. Made for PAC, Fall '09.
Combine all ingredients and then mix well.
Store in an airtight container.
To make one serving: Add 4-6 teaspoons mix to one cup boiling water.
Stir until disolved.
Yields 3 cups mix (24-36 servings).